Our Vision and Values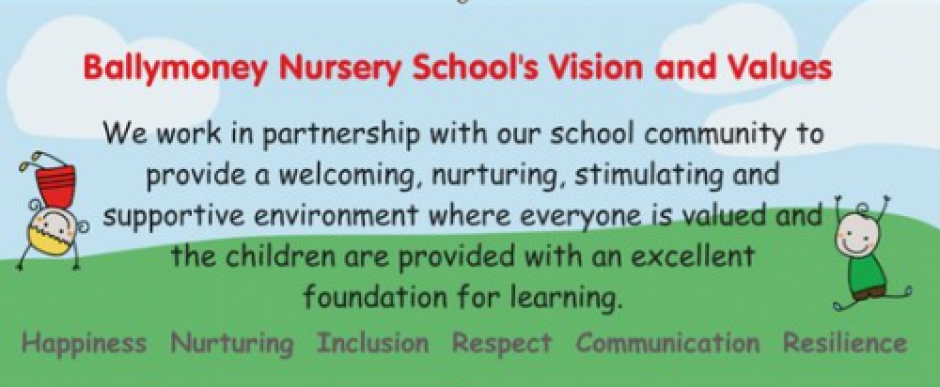 Our School Vision, Values and Aims were revised as a school community during the 2019-20 schoolyear and were launched in June 2020.
At Ballymoney Nursery School we aim to:
Provide a caring, stimulating, nurturing, inclusive learning environment where children can settle, be positive when learning and all staff encourage them to develop their potential.
Be a positive influence in the lives of the children and families we work with through creating a supportive nursery which feels like home and where everyone feels valued.
Each child develop self-control and grow in self-confidence and self-esteem, by providing opportunities for success in a wide variety of areas.
Each child develop social skills and in doing so develop self-respect and respect for others.
Build rapport with our parents and partners to develop a positive partnership which will enable sharing and developing the children's experiences.
Create an environment where high quality holistic play experiences are child led to take account of individual needs and interests and fulfil the pre-school curriculum and provide an excellent foundation for learning.
Develop each child's communication skills through contact with each other and the adults in the school and place an emphasis on sharing the world of books, stories, rhymes and music with them.
Extend each child's concentration span and depth of understanding through their own natural curiosity and interest.Children will feel safe and secure at Nursery and know what to do if they feel unsafe.
Ballymoney Nursery School | North Road, Ballymoney BT53 6BW | Phone: 028 2766 4367