Eco Schools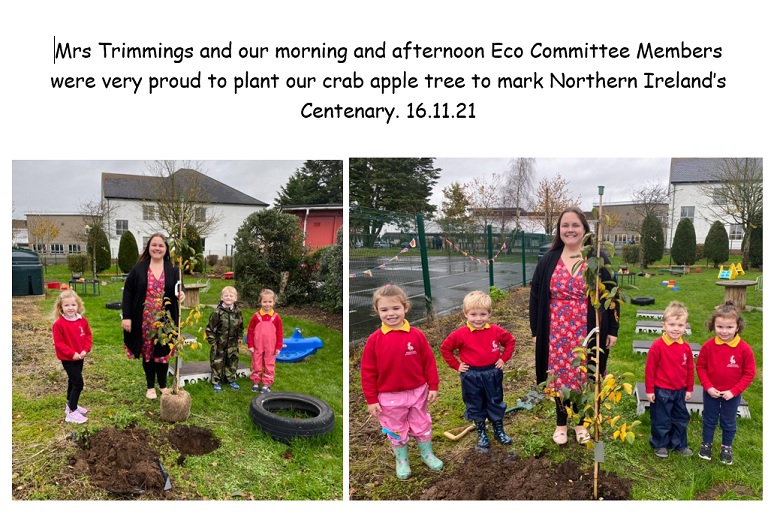 2021-22 School Year
We are currently applying for our third Green Flag and are focusing on the topics of Biodiversity, Water and Waste. So far this year, we have focused on re-establishing our committee and implementing our Waste and Water action plans.
Waste
Our major project this year is based on Waste! We want to reduce the amount of waste going to the landfill and to reduce, reuse and recycle as much as possible.
Thank you to all of our parents/carers for providing us with email addresses and consenting to using the school messaging app-this has helped us drastically reduce the amount of paper we use as we can send our letters and newsletters electronically.
As part of our Waste project, we are now working in partnership with Recycle for KC Northern Ireland to recycle used cracker wrappers, cheese wrappers and disposable gloves that are being used in the nursery. We are also participating in the Cash for Clobber scheme in partnership with Cookstown Textile Recyclers. This scheme enables all the members of our school community to recycle some of the clothes, shoes, handbags and belts they no longer need. They bag them and then bring them to us on a specified date in November. If the items are reusable Cookstown Textile recyclers will export them to developing countries, including sub-Saharan Africa, Pakistan, and in some instances Eastern Europe.
Within the classrooms, there is a focus of reusing card, paper and cut offs in class as part of collages and creative work.
Water
To reduce the amount of water that we use in school, in particular in our outdoor areas, we purchased a water butt for each of our three outdoor areas. When they arrived in school, our pupil Eco Committee members eagerly told their class all about them and how they would be used in the playground.
They are used for our mud kitchens, water wall, painting and watering plants!
To help reduce the use of water in school, we created posters to remind the staff when using the kitchen sink and washing machines!
The History of Ballymoney Nursery School and the Eco Schools Programme
Ballymoney Nursery School was awarded its first Eco-Schools Green flag on 25 March 2009 making it the first Nursery School in the Ballymoney Borough Council area to have achieved a Green Flag.
TIDY Northern Ireland's Eco-Schools manager Colin Latham stated, "This is a wonderful achievement for all of those involved at Ballymoney Nursery School, I was lucky enough to be there today to hand over the flag in conjunction with Ballymoney Borough Council. The enthusiasm of the pupils and their Principal and her staff throughout the process has been quite infectious. Ballymoney Nursery School is an excellent example of what Eco-Schools is all about as the pupils with the help of their teachers have created a wonderful new garden and outdoor learning area as well as many other projects in their quest to achieve their Green Flag".
Our second Green Flag was awarded in June 2015 and the assessors commented on the strengths of our school. "We love the whole school approach. Eco-Schools is core to school activities. There is lots of involvement with outside organisations. Children bring messages home. We loved the experiment with bird-nesting materials."
Ballymoney Nursery School | North Road, Ballymoney BT53 6BW | Phone: 028 2766 4367